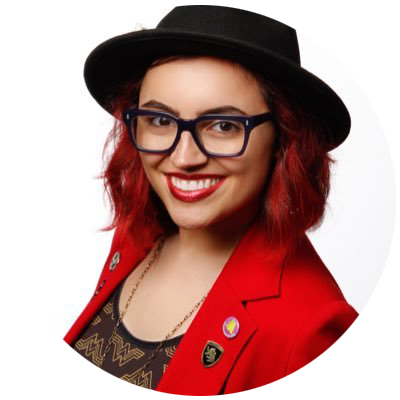 Graphic Designer, Illustrator, Geek Girl Extraordinaire
Full Sail University Alumni 2015, Bachelor of Science in Graphic Design
8 years of freelance experience
1 year of in-house experience
Fueled by a lifelong love of storytelling and the arts, I strive to create unique pieces for my clients that have stories to tell. My passions for literature, music, film, comics and more inform my creative process, and I always feel honored when a client comes to me to help them bring their story to life.
Since childhood, I have always been a doodler and a dreamer. My journey as a graphic designer began when I was fifteen years old and decided to enter an ongoing t-shirt design contest. Having fooled around in Photoshop since I was eleven, I tried my hand at making some designs for the fun of it. I was shocked to have multiple designs bought and printed by the company. I began venturing more into the world of design as the years went by—taking on handfuls of my first freelance clients—and decided to further my skills by enrolling in Full Sail University's online degree program. I finished my studies in their immersive, real-world focused graphic design courses, and earned my Bachelor's degree in 2015. Since then, I have taken on a diverse array of projects from clients such as musicians, authors, YouTubers, and non-profits.
I look forward to working with you and helping you explore the story you strive to tell. Thank you for visiting my portfolio!